SYDNEY AIRPORT (SYD) INFORMATION
Origin
Airline
Flight no.
Scheduled
Est./Actual
Status
No flight arrivals were found at Sydney Airport.
Destination
Airline
Flight no.
Scheduled
Est./Actual
Status
No flight departures were found at Sydney Airport.
Car Hire at Sydney Airport
UNBEATABLE VALUE CAR RENTAL
Free Amendments | Free Cancellations | No Card Fees




Sydney Airport - All Information on Sydney Airport (SYD) Sydney Airport
Sydney NSW 2020, Australia
phone +61 2 9667 9111
phone+61 1300 561 330 (Lost + Found)
Facts and History about Sydney Airport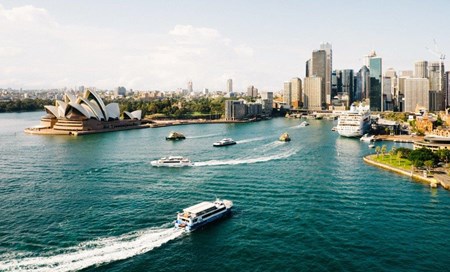 Sydney Airport serves Australia's largest city, known as Sydney, and is also the busiest airport on the continent, with well over 44 million passengers per annum. The airport is commonly referred to as the Kingsford Smith Airport, in honour of Charles Kingsford Smith who was a pioneering Australian aviator, or even as the Mascot Airport, due to its location in this suburb of Sydney. Sydney Airport's official IATA code is SYD, and its ICAO code is listed as YSSY. This airport in New South Wales, Australia, is a major hub for airline companies such as Qantas, Virgin Australia and Jetstar, and consists of three terminal buildings, fully equipped for the needs of arriving and departing passengers, and three runways.
Sydney Airport is located approximately 8 km from the Central Business District of Sydney, and on the northern coast of Botany Bay. The airport is particularly nearby the areas of Randwick, Canterbury, Rockdale, Huntsville, Le Perouse and Bankstown, and is also bordered on the western side by an inlet from the bay, known as Cooks River. By road, the airport is easily accessible from the M1 Southern Cross Drive, which runs to the city, and the M5 South Western Motorway provides a link to the south western suburbs. Areas surrounding Sydney include Cessnock and Newcastle to the north, Ingleburn and Wollongong to the south and Bathurst and Lithgow to the north-west, while the Tasman Sea edges the city on the eastern side. Sydney is also just north of Melbourne, home to the second largest airport in Australia.
Sydney Airport provides the most important of Australia's air gateways, especially with regards to international traffic, as in recent years; it has handled approximately 45% of all international passengers on the continent. The airport is a popular arrival point for both business passengers and tourists, as millions of visitors come to enjoy Sydney's attractions each year, which include its famous opera house, the Sydney Harbour Bridge and the spectacular beaches in the area. Sydney Airport is currently in the top thirty busiest airports in the world, and has been awarded a top 5 position at the prestigious Skytrax Airport of the Year Awards.
The busiest domestic route from Sydney Airport is to Melbourne Airport, with over 9 million passengers per year, and mainly by the airline carriers of Qantas, Jetstar and Virgin Australia. This route is considered to be the 4th most traveled in the world. Other busy domestic routes are those to Brisbane Airport, Gold Coast Airport, Adelaide Airport, Perth Airport and Canberra International Airport. Qantas handles many of the busiest international routes from Sydney Airport as well, which include to Auckland Airport, Hong Kong International Airport, Los Angeles Airport and London Heathrow. Virgin Atlantic Airways is another airline company with flights to Hong Kong and London. Additional important airline companies at Sydney Airport include Air Canada, Air China, Air New Zealand, Cathay Pacific, British Airways, Delta Air Lines, Emirates and Singapore Airlines. A number of prospective airline carriers, such as AirAsia X and Qatar Airways, seek routes to Sydney Airport as well.
Sydney Airport handles a significant quantity of Australia's cargo movements per annum, and is served by the cargo airline companies of Australian Air Express, DHL Express, Cathay Pacific Cargo, Qantas Freight, Singapore Airlines Cargo and FedEx Express. The freight terminal is located to the north of the International Terminal, and a building that used to be a fourth passenger terminal at the airport is now used as offices for DHL Express and Tasman Cargo Airlines. Sydney Airport handles over 450,000 tonnes of cargo per annum.
The airport of Sydney is one of the oldest continually operated airports in the world, having begun its operations between 1920 and 1930. Nigel Love, a former wartime pilot, originally established the airport as a private concern, but when the lease period of the land expired, the federal government compulsorily acquired it. Regular flights began in 1924, and in 1933, the first gravel runways were built. The second runway to be built was the 16R, jutting out into Botany Bay, and is currently the longest operational runway in Australia, with a length of 4,400 meters. The airport's international terminal was opened in May, 1970, by Queen Elizabeth II, and was also expanded in 1992. More recently, the international terminal has also received a $500 million renovation, which included a new baggage system and a further 7,300 square meters of shopping space and facilities. Other recent important developments include runway safety areas that have been constructed at the ends of each of the current three runways, providing an extra margin of safety for passengers should an aircraft land short, or overrun the runways. The safety areas were essential for the airport's compliance with international safety standards. Expansion of Sydney Airport will continue over the next fifteen years to include a new multi-level car park, larger domestic and international terminals and an extra high-rise office block.
The passenger terminals of Sydney Airport are named as Terminal 1, 2 and 3, of which Terminal 1 is the International Terminal, comprising of three levels, 30 departure gates and 200 check-in desks. The terminal can accommodate the Airbus A380, which flies to Singapore. In this terminal, arrivals, departures and airline offices are each dedicated a level for their operations. The international terminal covers a total area of 254,000 square meters. Terminal 2 and 3 are the domestic terminals, with a vast array of facilities, including a number of VIP lounges, and are within walking distance of one another. A transfer by bus, train or taxi will be needed in order to travel from either of these two terminals to the international terminal. Further facilities at Sydney Airport include business and conference services, medical centers, banking services, numerous airport cafés and restaurants and facilities for disabled passengers and families with young children.
Since that Sydney Airport is located in such a densely populated urban area, it follows a strict curfew, with no aircraft landings or take-offs during the hours between 23:00 and 06:00, apart from a few exceptions. General information is available from the various information desks found within the terminal buildings of Sydney Airport, including Tourism NSW Information Desks.
SYD is the official IATA code for Sydney Airport. Sydney Airport is also known as Kingsford Smith It is possible to enter the following GPS coordinates -33.94611, 151.17722 to aid you in your travelling to and from Sydney Airport.
When arriving at Kingsford Smith airport you will find the most popular car hire companies situated close by. Please bring your valid driving licence and credit card if your require a hire car on your trip to Sydney Airport. To be sure of beating the queues at the airport it is wise to book your Sydney car rental online, please visit the link for more information.
Hotels near Sydney Airport
There are a number of hotels to suit all budgets and requirements at or near Sydney Airport.
Parking at Sydney Airport
See options for parking services at Sydney Airport.
Additional Services and Amenities at Sydney Airport
At Sydney Airport you will find the usual array of bars and restaurants, airport lounges and shops.
Things to do in Sydney
There are a number of activities to suit all ages and interests in the region - see a selection of tourist activities in Sydney, Australia.
Services at Sydney Airport
Useful Information about Sydney Airport